Yesterday my campaign update (to ban junk food at all till points) went live on the fuse open science blog . There I give an account of the 6 letters I wrote to the leading retailers who have yet to follow in the footsteps of Aldi, Lidl and Tesco who now provide healthy checkouts.
Yesterday I received a reply from WHSmith, so I felt it only fair to share this and my response to it, as I have for Marks and Spencer, Asda, Sainsbury's Morrisons and Iceland Foods.  I hope to put this onto fuse as well.
My reply was addressed to WHSmith Group Communications Director Mr Mark Sabin:
Thank you for your letter in response to my request to stop the display and promotion of confectionery at WHSmith till points. I have read with interest your 2014 corporate responsibility report and would now like to raise some issues and questions concerning this report and some of WHSmith's responsible retailing policies:
1. In your letter you explained that "WHSmith are a very small player in the UK confectionery market". I strongly believe this is not valid justification to 'opt out' and pass on your responsibility to the major supermarkets.  As a seller of confectionery, sweets and soft drinks, no matter how small your contribution to the market, you are obligated to consider the full impact your products may have on consumer health. 
2. Your report states "you have extended your healthy food range".  Whilst products such as granola pots, smoothies and health food bars may be marketed as and appear 'healthy' they often contain high amounts of added sugar. These items are generally no better than sweets or chocolate and mean that we exceed our recommended sugar intake when consumed in excess. Have you consulted a registered nutritionist or dietitian when determining your product range? Do you have a specific threshold using traffic light labels or set a maximum sugar or fat content (that I mentioned in my previous letter) to help identify healthier products? Reviewing portion sizes of the products you provide is certainly a valuable step you have made but simply looking at the total calorie content is not always entirely helpful. As a nation that is in the midst of a health crisis attributed to diet, it is very important to consider the added sugar, saturated fat and salt content too. 
3. You state that "where your stores are in travel locations and you offer a more extensive range of food, drinks and snacking products, you have been increasing the range of healthy alternatives". If you are assuming we are more likely to snack whilst travelling, it would be useful to have an evidence base here and if you are stocking more 'healthy' items, are you actively promoting them instead of the confectionery? You must also be confident your healthy alternatives meet the appropriate legislation if they are to be labelled as such. Please can I point you towards this rather large faux pas in one of your stores: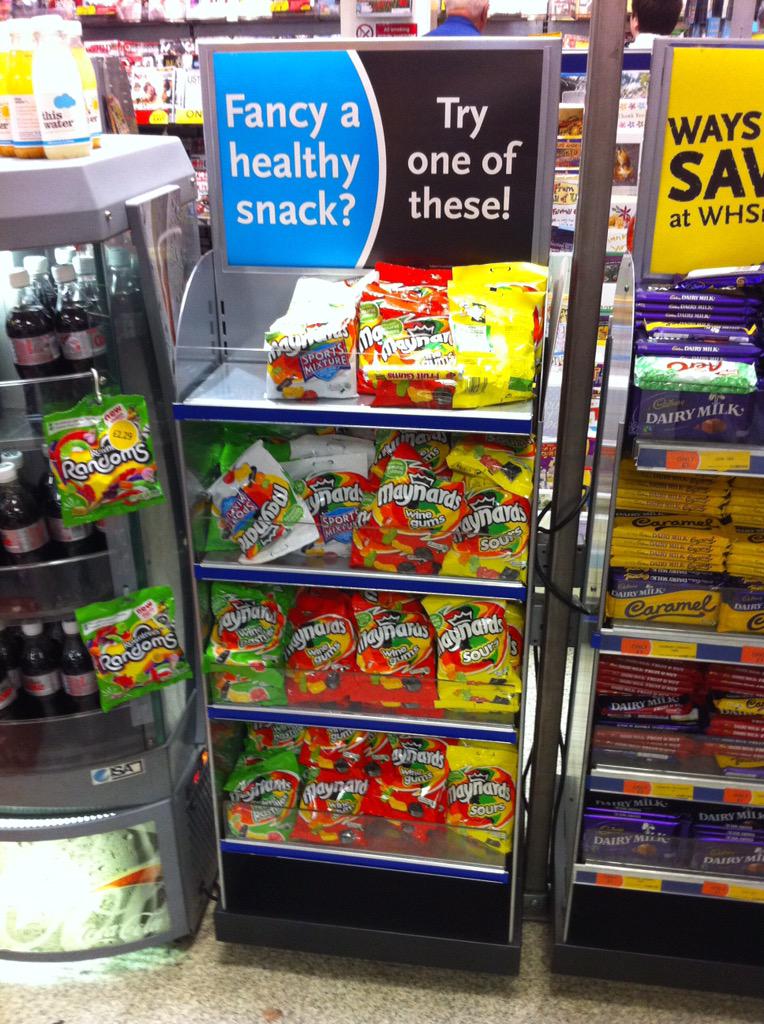 4. You state that "your staff are trained to never offer promotions repeatedly to regular customers". Are you assuming your customers are more likely to be regular if they purchase from stores in travel locations i.e. commuters making repeated journeys? How would WHSmith staff know if a customer is regular or not? Surely staff rotations and altering customer habits would make this impossible to determine with confidence and is a large assumption to make? 
5. You explain that "when chocolate or confectionery is included as part of a promotion, it is often designed for sharing or as a gift". This clearly passes on the responsibility to your customer, rather than accepting it yourselves. Again, how can you possibly assume that the confectionery you sell will be shared or gifted? 
6. You explain that WHSmith staff are "trained on how to offer promotions so that staff never offer confectionery products to parents with children and never offer promotions repeatedly to to anyone who has made it known they do not wish to be advised about such promotions". How can your staff make a judgement that an adult has or does not have children? Children are not the only vulnerable party here either and unless your staff manage your till points throughout every working day, how can they determine if a customer has already been previously asked?  You are also putting the onus on the customer to state if and why they don't want your product. This could potentially be awkward for the customer in making unnecessary justifications. 
Overall I am concerned about the assumptions made about WHSmith customers and from the explanations you have provided, I am not convinced your methods and criteria for selling products is sufficiently robust.  I would be very happy however to discuss the nutritional contents and values of the products you offer and help establish a range that is clearly healthy and varied for your customers.  I look forward to hearing from you again
Yours sincerely